TUSS LST-466 underway and alongside USS Harrison (DD-573), returning from the Leyte invasion bound for Humboldt Bay, Dutch New Guinea, between 21 and 27 October 1944.
"The last offensives in the Southwest Pacific Area started on May 1 when an Australian brigade went ashore on Tarakan Island, Borneo. Carried to the beaches by landing craft manned by U.S. Army engineers, the Australians had air support from fields on Morotai and in the southern Philippines." http://www.ibiblio.org/hyperwar/AMH/AMH/AMH-23.html
"LST-511 Class Tank Landing Ship:

Laid down, 14 October 1942, at Kaiser, Inc., Vancouver, WA.
Launched, 18 November 1942
Commissioned

USS LST 466, 1 March 1943
During World War II

USS

LST-466

was assigned to the Asiatic-Pacific Theater and participated in the following campaigns:
Asiatic-Pacific Campaign
Campaign and Dates
Campaign and Dates
New Guinea operation


Lae occupation, September 1943


Saidor occupation, January 1944
Leyte operation


Leyte landings, October 1944
Bismarck Archipelago operation


Cape Gloucester, New Britain, December 1943 and February 1944


Admiralty Islands landings, February and March 1944
Luzon operation


Lingayen Gulf landing-January 1945
Hollandia operation, April and May 1944
Borneo operation


Tarakan Island operation, April and May 1945


Balikpapan operation, June and July 1945
Western New Guinea operations


Toem-Wakde-Sarmi area operation, May 1944


Biak Island operation, May and June 1944


Noemfoor Island operation, July 1944


Cape Sansapor operation, July and August 1944
.
Following World War II

USS

LST-466

performed occupation duty in the Far East in October 1945 and saw service in China in November and December 1945
Decommissioned, 8 March 1946
Struck from the Naval Register, 12 April 1946
Final Disposition, sold, 4 June 1948 to Hughes Bros., Inc., New York, N.Y. and subsequently scrapped
USS

LST-466

earned seven battle stars for World War II service
http://www.navsource.org/archives/10/160641.htm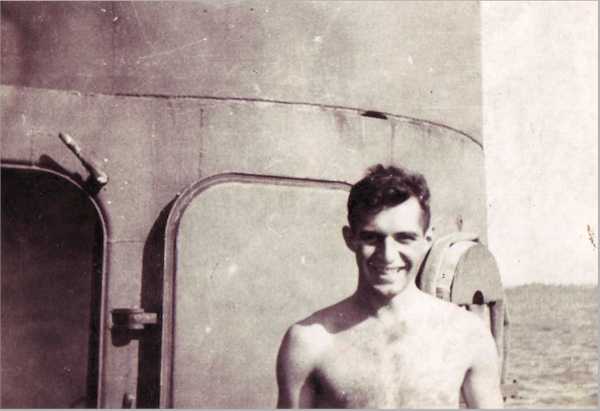 Lieutenant JG John Keshishian at Okinawa 1945
John participated in the assault and occupation of Okinawa Gunto from April through June 1945
Copyright H.M. Keshishian 2006.
Last revised: January 14, 2011.