Garabed Keshishian
Born: Hadjin Turkey May 22, 1882
Died: November 29, 1971 interred Greenfield Cemetery, Hempstead Long Island.
Married: 1911 to Knarig Dadalian (Keshishian Family Wedding Circa 1911)
Children:
Meline born June 30, 1913 Istanbul, Turkey

James Died when shot down by the Japanese in the battle for Okinawa July 26, 1945

Lucy born October 6th 1920 Lorneca Cyprus. Died in May of 2005 at the age of 86.

Alice Born April 08, 1923, Buenos Aires, Argentina.

Jerry Born March 02, 1925, Brooklyn, NY
Education
Hadjin High School, class of 1898
Graduated from Central Turkey College, class of 1902
Work:
Hadjin High School, Senior teacher
Central Turkey College , Teacher Aintab, Turkey (Later Gazi Aintab)
Mayor of Hadjin 1909 GK was appointed Mayor second only to the Greek Governor in the Hadjin Area by Jemal Pasha, Vali of Adana.
1910 Assistant Editor of RAHNUMA an Turkish language magazine using the Armenian alphabet.
Sections: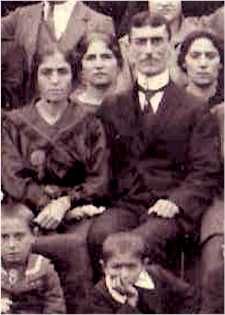 Garabed Keshishian Director Save the Children Orphanage Cyprus 1920